Equilateral Necklace Kit and Instruction Manual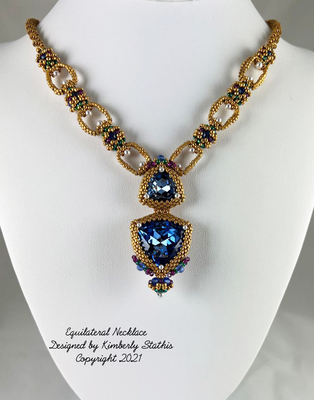 [Drag Over Image to Magnify]
Description
The Pendant for the necklace is made up of two different sized bezeled Equilateral (triangular) crystal stones.The larger embellished triangular crystal stone makes up the bottom of the pendant and connects to the top smaller triangular crystal stone. Ladder stitch loops and beaded beads connect together to form the necklace strap. Length is added to the Necklace Strap using a beautiful twisted Herringbone rope. A lovely beaded button and loop is used for the Necklace closure.
Stitches used – Peyote Stitch, Netting Stitch, Ladder Stitch and Twisted Herringbone Stitch
Skill Level – Intermediate – Individuals should to know how to do the above mentioned stitches and have finished several off-loom beadwork projects.
Kit Materials
Cylinder Beads (Miyuki 24K Palladium delicas)
Three colors size 11 seedbeads
One color size 15 seedbeads
2mm, 3mm and 6mm round pearls (Austrian Pearls)
3mm round crystals (Austrian Crystals)
17mm and 24mm Trillium Crystal Stones
Full color laser printed bound instruction manual
38 pages and148 illustrations
Kit and instructions will be sent priority mail.
Tracking No. will be provided.
---